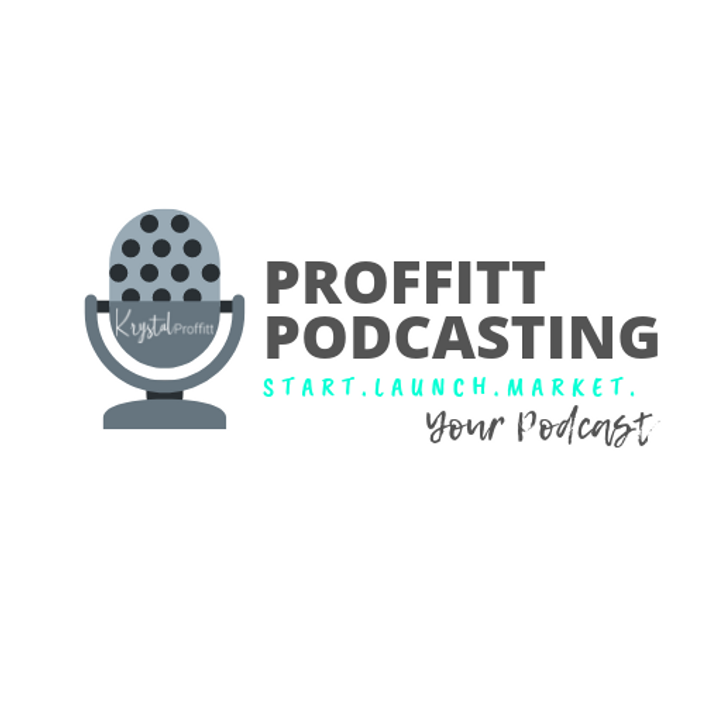 PROFFITT PODCASTING
Start, Launch, & Market Your Podcast
(without tech overwhelm, fear of running out of content, or wasting time trying to "figure it out"!)
---
If you're a scrappy entrepreneur, coach, or consultant looking to build a platform for deeper connections with your audience & share your valuable message with the world, then you know that a podcast is just what you need.
I know you don't mind getting your hands dirty...doing hard work.
Because you were made for the important, hard work you're already doing.
And I also don't need to tell you how impactful a podcast can be!
(Don't worry if you're subscribed to WAY too many podcasts too. Maybe we could start a support group for podcast junkies?)
You've probably also seen and heard the buzz that podcasting is growing exponentially! And that means big brands are starting to pay attention too.
"...expects podcast advertising to exceed $500 million in 2019, which represents growth of about 65% in just two years."
WHAT YOU MAY NOT KNOW...
---
Even if you already have an established audience, an online business that's gotten some traction, or you're already creating content elsewhere (like a blog or video)...having a podcast can:

PROVIDE NEW OPPORTUNITIES
There's something to be said about someone who puts a stake in the ground as "I'm the expert in…." And that can be you. When you share consistent, valuable content through your podcast, people take notice. Speaking gigs, book deals, treasured partnerships, and all kinds of cool opportunities can come when you do the work and keep showing up.

QUICKLY ESTABLISH YOUR CELEBRITY & AUTHORITY IN YOUR FIELD
People will begin to: recognize your name (once you start putting your content out there), telling industry pros to be a guest on your show, and begin spreading the word about your podcast.

SIGNIFICANTLY BOOST YOUR REFERRAL POTENTIAL
I don't know about you, but when I listen to a REALLY good podcast episode...I tell people about it. Imagine the social media shares you'll get when you create a podcast episode that blows someone's mind!

GENERATES ENDLESS MARKETING POTENTIAL
Did you know you can promote your own products and services within your podcast? There are unlimited ways that you can creatively reach your audience and increase your revenue without being bound to someone else's "guidelines for promotion." It's YOUR podcast. You can promote what YOU want.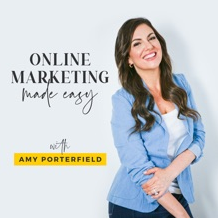 "[Krystal] She's a total go-getter. She's making moves. She's changing things up in her business and I love working with her...because she actually takes action!

Which is, of course, a dream come true for any course creator, right?
We love to see our students actually take action on the advice we give them.

Krystal's a perfect example of somebody who's doing so."
- Amy Porterfield, Online Marketing Made Easy Podcast Ep. 271

Even though the reasons to create a podcast are perfectly obvious, the path to doing it successfully is anything but.
CREATE A PODCAST? SOUNDS FUN!
But where the heck am I supposed to start?
---
Let me ask you a question…
(And be TOTALLY honest when you answer!)
How long have you had "Start a Podcast" on your to-do list?
My guess is at least 2-3 months.
You've jotted down some episode ideas.
Potential guests and solo topics.
Maybe you've even priced a few mics on Amazon. They may still be in your cart right now, aren't they? You've asked, "Should I get the Blue Yeti?" [It is a great mic, by the way.]
Yet you feel like you're missing something...something important.
The technology feels foreign.
The software looks complicated.
The processes aren't clear.
There are TOO many platforms to understand.
---
QUICK STORY TIME:
"Why most potential podcasters "PRE-QUIT" before they ever get started..."
They try to piece together conflicting opinions from multiple "online experts." Without clear-cut, step-by-step instructions on what to do, most potential podcasters go down a search engine rabbit hole that leaves them feeling lost and confused.
THAT'S LIKE TAKING 2 STEPS FORWARD...AND 50 STEPS BACK!
As an already crazy-busy entrepreneur, you have zero minutes to spare! ZERO!
Each time you open a search browser and type in "how to start a podcast", you're given new results. The information keeps changing. New faces pop up.
And you don't know who you're supposed to trust.

Therefore, you spend literally hours creating a plan and then scrapping it as soon as another "expert" tells you another way to do it.
Luckily for you, not many people are brave enough to follow through with their ideas once they get to the point of frustration.
Your would-be industry competitors give up after the 4th HOW TO video because they think it's too hard.
WHICH MEANS...
Even if you only have a fraction of the knowledge it takes to create a podcast, there's plenty of opportunity for you to put your stake in the ground as the "go-to" expert in your industry.
There's still a good chance for your fairytale podcast story. That is...if you can avoid the same expert-hopping, patchwork creating your competitors are trying to do.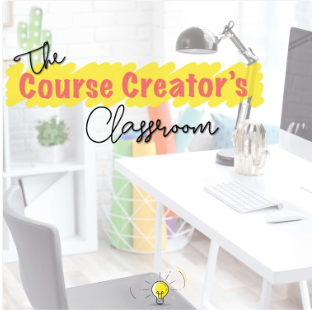 I actually love podcasting...
"I hadn't created a podcast before or used Audacity, so I wanted to learn it all. I wanted all the resources in one place instead of having to Google everything.
I love the way you [Krystal] teach and the energy you bring...I knew I needed to buy the course and see what else you had to offer.
Podcasting is easy...it still takes a lot of time, but it's not hard. I actually love podcasting!...Thanks for a great course and you being you! You're awesome!"
- Apryl Bradford, The Course Creators Classroom
4 REASONS WHY YOU REALLY HAVEN'T STARTED YOUR PODCAST
---
1. You tell yourself you're not a "techy person".
As my Grandma likes to say, that's a "sure-fire" way to never get any results. Translation: that's just an excuse.
Let's get real honest here, you didn't know how to use Microsoft Word or PowerPoint until someone showed you, right? Or you didn't know how to create a post on Facebook until you learned which buttons to press, huh?
So we're going to scrap the "I'm not into tech" persona completely and embrace the "I can learn" attitude.
2. You don't know where to start.

Well, that's a valued point.
You may not know where to begin. But what if I told you there are 3 important stages your podcast goes through on its journey?
You're either in the creation (start) phase. Getting your podcast online (launch) phase. Or promoting your content to the masses (market) phase.
Now it doesn't feel so scary to wonder what's going around the corner if you can see which phase of the process you're in, right?
3. You don't know which equipment to buy.
What if I told you I started my podcast for under $30? I bought a USB mic off Amazon, added a pop filter to my cart (because that's what I thought all of the cool podcasters did), and I got started.
Don't overthink it.
Find the equipment that works within your budget and call it a day.
(Remember, you can always upgrade to those cool swivel arms and radio DJ headphones later. For now, start with simple and affordable.)
4. You're afraid you'll look stupid.
My dear sweet friend, I wrote the book on embarrassing moments, okay?
If there's a stupid question, I've already asked it...possibly multiple times.
Unless you - in a previous life - were on the radio or in the music biz, all of this podcasting stuff will brand-spanking-new. So why would you be awesome at it when you're just getting started?
Don't you remember how hard it was when you first started riding a bike? You were nervous, maybe a little scared, and even terrified of going too fast.
It's the same with a podcast.
You'll make mistakes, you'll totally mess up someone's name, you'll forget to edit out your toddler banging on the door...but you move on. You keep going.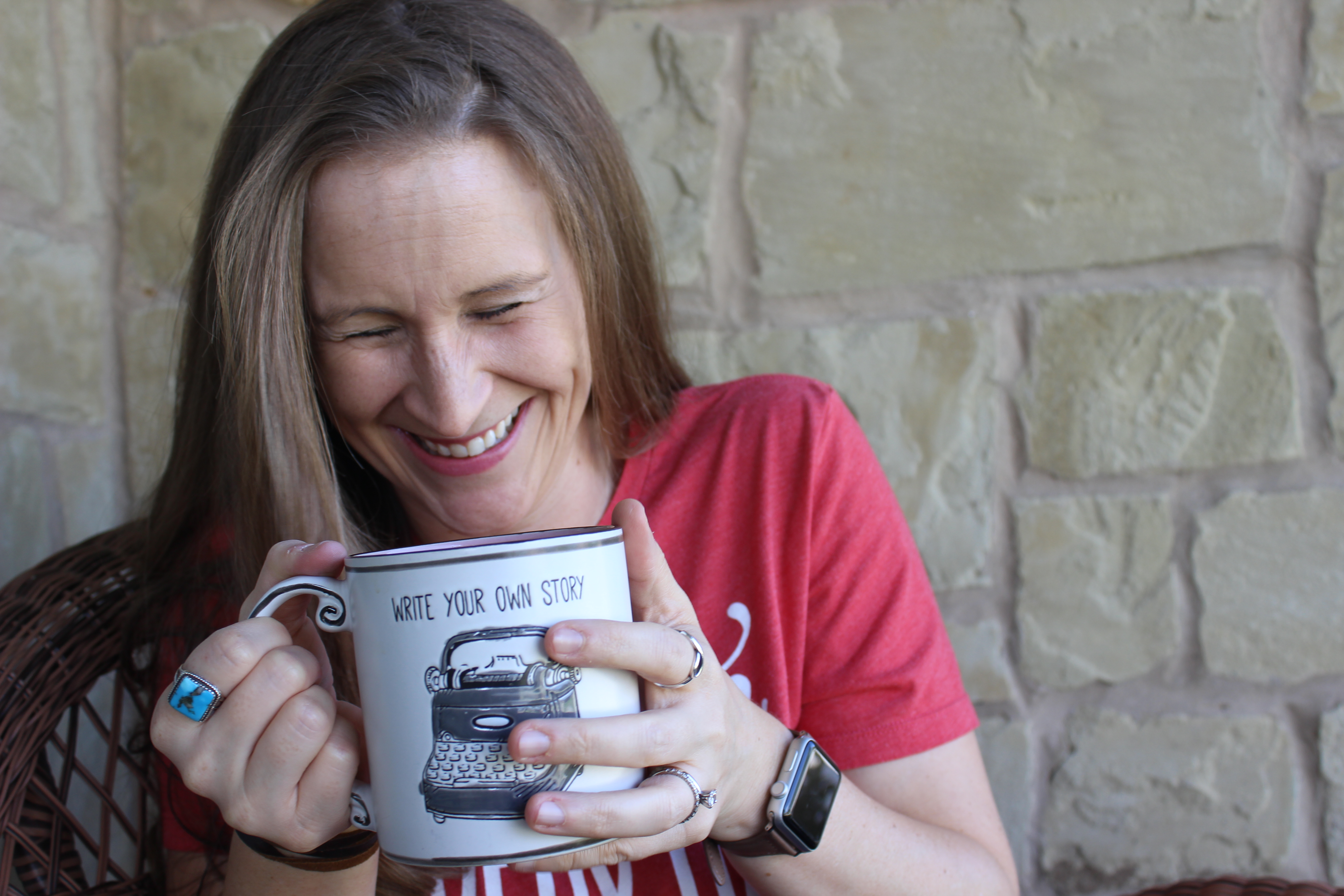 So, Here's the Thing...
I'm Just Gonna Give It To You Straight…
Podcasting isn't for everyone.

Sure, there will be tons of people that TRY to create a podcast in the next 18 months. But they'll never make it past 10 episodes.
WANNA KNOW WHY?
Because they don't have what it takes to keep going when they mess up.
They don't have the grit that comes with falling down and getting back up again.
They aren't able to give themselves the patience to learn something new, enough margin in their schedule to be creative, and an abundant amount of grace to overcome obstacles they can't see.
As long as you are ready to commit to the work and show up bravely to share your message…
Then, my friend, you're ready to create your podcast!
LET ME INTRODUCE YOU TO...
---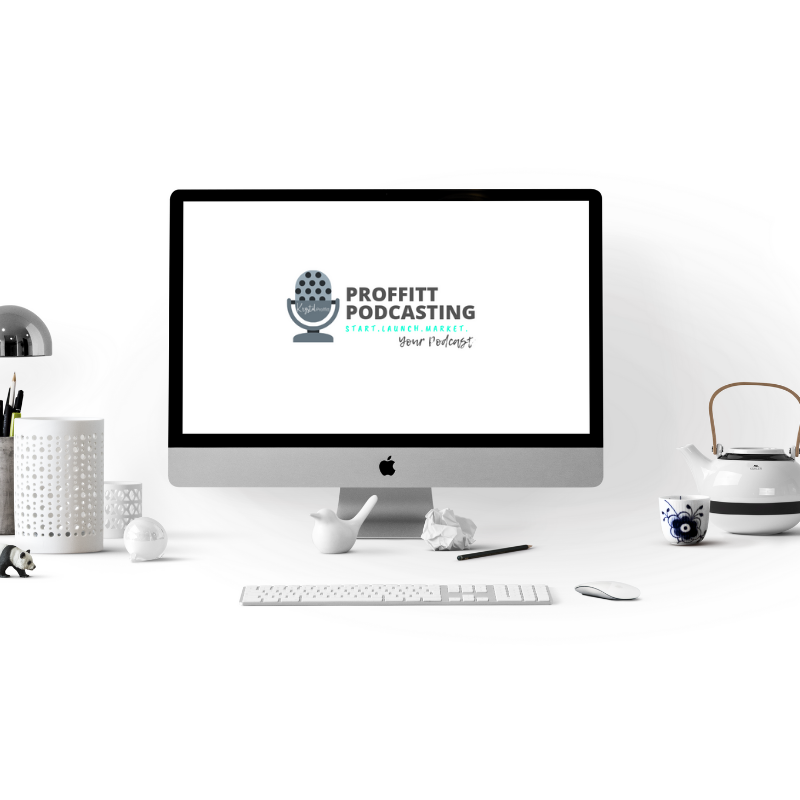 PROFFITT PODCASTING
The Complete Step-by-Step Plan for Entrepreneurs Who Want to Learn How to Confidently Start, Launch, & Market Their Podcast.

---
I've written down everything along my podcast journey from what's worked and things I wish never happened. With lessons learned and HUGE WINS along the way, I've translated every part of my journey strategically into a digital course framework.
Proffitt Podcasting isn't a magic bullet.
There are no shortcuts here. This a full-blown roadmap to take your podcast from an idea to a content producing machine.
Of course, you'll learn the fundamentals of planning, recording, editing, and publishing your episodes, but more importantly, you'll have a step-by-step plan on how to grow and monetize your podcast as you continue your journey.
When you're done with the program, you'll have an online platform that you're excited to talk about and proud to share with everyone you see! (No more feeling slimy about marketing either. I'm gonna show you how to do it the right way!)

---
This course is closed for enrollment.
Proffitt Podcasting is the first program of it's kind that…
Takes the Overwhelm Out of the "Tech" Processes
No more confusing search engine rabbit holes. I'll show you exactly what you need and, more importantly, what you don't!
Guides You from Each Phase of the Podcast Process (Start, Launch, Market)
Don't worry about which order to do things in. You'll learn exactly how and why it's important to do things in the correct order.
Focuses on Fierce, Not Fancy
We get the job done. We don't prioritize gadgets and fancy equipment here. Our motto is, "Done is better than perfect. And you get better over time." But if you never get started, you never have the chance to get better.
Gives You the Tools for Success in Any Phase
Questions are a natural part of the learning process. Since Proffitt Podcasting was born from the questions so many of my peers have asked me, I can guarantee that we've heard a version of the questions you have or will have.
Module 1: Part 1 (START Your Podcast)
This is where you'll lay the foundation for your podcast's success.
Here, we'll cover some of the fundamental principles for creating a podcast that are often overlooked. These will be the strategies that you go back to over and over again as you continue to create podcast content.
Even if you have no clue what the first steps are to set your podcast up, this module will walk you through each lesson in the process step-by-step.
HIGHLIGHTS:
Learn how to select & purchase the right podcast equipment for your budget and your needs.
Create an attention-grabbing podcast title & tagline that will attract the right listeners to your show.
Identify and understand exactly who your ideal listener is so you can connect with them.
Learn how to plan consistent content & fill your podcast calendar for months at a time.
Use my systematic process to develop the episode format you'll use for every single podcast episode.
Module 1: Part 2 (START Your Podcast)
In this Module, we start getting into the nitty-gritty of podcasting.
Here, we'll cover the basics of podcast software - including recording and editing. The principles within this module are geared towards solo episodes and interviews, so there is no confusion about how to create either format.
There are videos for every step of the process that break down podcasting into bite-sized pieces. No more tech overwhelm!
HIGHLIGHTS:
Learn the basics of podcasting software - taught across multiple videos that are easy to digest and not soul-crushing.
Confidently record your very first podcast episodes with step-by-step instructions on what to do.
Practice recording solo episodes that will be the foundation of your podcast launch.
Apply my interview principles and strategies to find good, quality podcast guests that deliver value to your audience.
Master the podcast interview process with tutorials from everything to scheduling a guest to the interview mindset.
Learn the requirements to your podcast artwork and find out how to obtain music from reputable sources.
This course is closed for enrollment.
Module 2 (LAUNCH Your Podcast)
Let's keep the momentum going! In this module, you'll lay the foundation for marketing your podcast - for your launch and beyond.
Here, you'll begin to put your content out into the world as you start promoting your podcast launch date and getting connected to your podcast hosting site.
This is where all of your hard work in Module 1 really starts to pay off! We'll walk through the steps you'll need to implement in this phase that will make marketing your podcast easier down the road.
HIGHLIGHTS:
Strategically pick a podcast launch date that aligns with your bigger goals and vision.
Begin to experiment with show notes and create your podcast descriptions.
Get connected to your podcast hosting site and the directories where you want your podcast to appear (Apple Podcasts, Spotify, Stitcher, etc.).
Develop a Podcast Launch Plan that ensures your podcast launches to an audience who's "ready to listen" on day 1!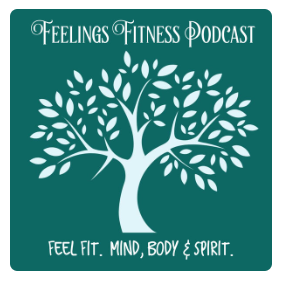 Launched in a Little Over 30 Days...
"[I was] insecure about putting my idea out into the world. iTunes seemed so "professional." I was feeling so "rookie.
It felt like, "I'm not good enough."

[With the course,] I felt as though it was going to provide a very step by step, even a little hand holding & it did!
I realized that you felt my passion to produce my podcast & you, within reason, held me to my launch date.

I officially have a podcast out in the world that I put together & launched in just a little over 30 days. Let me preface that by saying, I was a total newbie to all of the technology! Life feels exciting! Krystal is a bright light guiding with such a genuine care for her students!"

Module 3 (MARKET Your Podcast)
This is where my two passions collide - podcasts & marketing.
Here, I'm sharing with you the exact strategies that will help you confidently engage with your audience, learn exactly what they want to hear each week, grow your listener base, talk about your podcast to potential listeners or sponsors, and ways to monetize your show.
This Module isn't the time to coast to the finish line. There's a lot of information here. But if you've put in the work from previous lessons, this part of the program can take your podcast from mediocre to mind-blowing.
HIGHLIGHTS:
Develop a solid marketing strategy that engages current listeners and attracts potential audience members.
Learn how to confidently survey your audience and understand what they want to hear next.
Craft an Elevator Pitch that helps you talk about your podcast clearly and concisely to potential listeners and/or sponsors.
Determine monetization strategies that work best for your podcast and overall business brand.
Review the important principles that are vital to continue growing your podcast long after you've launched.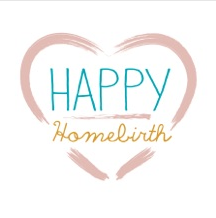 1,000 Downloads in 1st Month...
"Krystal was able to walk me through much of the minute details surrounding how to get my podcast up and running.
With so many little tasks and unexpected confusing aspects to setting up my podcast, I felt exhausted.

Krystal was always there and willing to provide a hand. She went above and beyond to help me get my podcast going!

When I got 1,000 DOWNLOADS on my podcast (without a prior audience) in my first month, I was so grateful for Krystal's skills and know-how!

The podcast is soaring, I've got raving fans, and I know it's time for me to begin offering my audience even more services!

I'm so grateful for the opportunities this podcast is bringing my way, and so happy to have Krystal's expertise in my corner!"

-Katelyn Fusco, Happy Homebirth Podcast (Podcast Coaching Client)
This course is closed for enrollment.
Here's My Promise to You...
I want to make sure we're on the same page.
Proffitt Podcasting is the complete step-by-step plan for entrepreneurs who want to learn how to confidently start, launch, & market their podcast in the next year.
We only want people that are ready and willing to commit 100%, do the hard work, and put in a solid effort. Our community thrives on sharing valuable information and honest questions that help everyone grow in their own podcast journey.
When you join us, you become part of these amazing podcasters who are bravely sharing their messages with the world.
But here's the deal…
30 days after you've purchased the course, you'll have received most of the module lessons. Meaning, you'll have had the chance to pick a podcast title, create your show format, record your first episodes, do an interview, learn to edit your podcast...almost all the things.
If you don't feel confident that we've done our job helping you get to where you need to on your podcast journey, reach out to me, show your solid effort put forth in the course lessons and request a refund.
I'll happily give you your money back! See Full Details Here >> Refund Policy
Here's what you're getting when you enroll today:
---
Online Course: Proffitt Podcasting ($400 value)
Bonus 1: Exclusive - Student Only - Facebook Group
Join our private community of podcasters that are successfully podcasting. Ask questions. Get feedback. Collaborate with other motivated podcasters. ($200 value)
Bonus 2: Social Media Strategies Masterclass
Learn the exact strategies I've used to get my podcast in front of hundreds (and even thousands) or potential listeners on social media every week. ($200 value)
Bonus 3: Create a Media Kit for Your Podcast
Discover what info and stats you need prepared for potential partnerships, collaborations, and sponsorship deals. ($200 value)
When you add it all up, that's a value of $1,000!

But when you enroll today, you'll get access to everything for just...
This course is closed for enrollment.
Questions Students Ask Before Enrolling in Proffitt Podcasting…
---
What if I'm just NOT "tech-savvy"?

Podcasting technology really isn't complicated. It just looks like it on the surface. There are programs in podcasting that you simply don't use anywhere else - like Audacity and other audio software. But with the right guidance, you will know exactly how to use the software and feel confident in creating your podcast content.





What if I run out of content ideas?

This program was designed to showcase a huge strength of mine, ideation - the creation of ideas. With the guidance in the program along with the supporting students and contributing partners, you'll have resources to reach out to for idea validation and even potential guests for your podcast!





What if I'm nervous that I'll sound weird, or worse, stupid on my podcast?

Look, you were born with the voice you have. You can't change it. So don't let that hold you back from the important message you have to share. I can show the tools that will have you holding your head high and being proud to talk about your podcast.





I'm already SO BUSY! When will I have time to complete the course AND implement the strategies for my podcast?

I get it. I'm a busy mom of 3 and there's not a day goes by that I check every single thing off my "to-do" list. But I can show you exactly what to prioritize for your podcast and, more importantly, where you don't need to waste time. I understand how precious your time is. We won't waste it on fluff that doesn't matter.





I don't have the perfect setup at home. How can I get started if I don't have a studio to record in?

Start with what you have. When I first got started, I didn't have a proper mic stand or standing desk. I propped my microphone on top of an old Minecraft party box we used for the kids' birthday party one year. I still regularly record my podcast in my podcast for great acoustics. Start with what you have.





Do I get access to all of the course information at once?

The course Modules are dripped out over a four week period. Once that period is over, you'll have access to everything in the course - including the incredible bonuses!





What if I realize the course just isn't for me?

No sweat. There's a 30-day refund policy, so you literally have nothing to lose. If you complete the work for the first 2 Modules of the course and you're not satisfied with your results, ask for a refund.





Can you remind me of everything I'm getting when I sign up today?

Sure. You get the Proffitt Podcasting course with Modules 1-3, Bonus #1 (Private FB Community), Bonus #2 (Social Media Strategies Masterclass), & Bonus #3 (Media Kit Masterclass).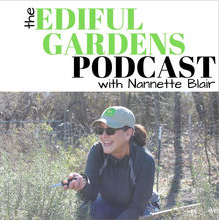 TOP 100 Podcast

"I love the way the course is laid out. Each lesson builds on the last. It is very motivating to see the possibilities within my niche."
- Nannette Blair, "The Ediful Gardens Podcast"
(Achieved 1,000 Downloads in First 3 Months & Top 100 Podcast in Home & Garden Category)
This course is closed for enrollment.
Still Not Sure?
You're ready to join us in Proffitt Podcasting if:
---
You're done piecing together bits of information from here and there. Wasting time on search engines and incomplete videos stops today. You're ready to commit to a proven strategy that's helped other students succeed.




You're tired of seeing mediocre results with your podcast. You've already launched your podcast, but have yet to see any traction. The principles in the program still apply here and can help you regain the traction you know your podcast deserves.




You already know WHO you want your message to serve. Yes, in Proffitt Podcasting I'll show you how to refine your message and nail down your target audience...but you already have an idea of exactly who your podcast is made for.




You know success isn't given, it's earned. You are willing to schedule time in your calendar to do the work and commit to taking one more step each week towards your goal of creating a podcast.




You already have a Google Doc somewhere filled with podcast ideas you want to try. You know you have a message inside of you waiting to be shared. But you need guidance on how to get it out of your head and into the earbuds of listeners who need to hear it. You don't want to "kind of" do it right. You want to deliver a solid message that builds your industry authority.




You already know that you don't have to have a HUGE audience. Despite what other people on the internet say, you DO NOT have to have a following to have a podcast. Most of the students in Proffitt Podcasting start from zero! In Proffitt Podcasting, we'll walk through marketing strategies that will help your podcast stand out online and attract more listeners to your audience.




You already know how much a podcast can impact your audience. But you're really excited to learn more about growing your audience, developing strategies to monetize and increase your bottom line and collaborate with other industry professionals to grow your influence.




You're excited to start picking your podcast title, develop your show format and order your equipment. You probably already have a few mic options in your Amazon cart waiting to complete the purchase. You can't ignore that rush of excitement that comes from telling your best friend, "I just bought a microphone. And I'm starting a podcast!"




You feel confident diving headfirst into the course knowing that you have 30 days to test out the strategies you need to succeed. The process is easy. Either you put in the and start producing podcast content that you know is going to impact lots of people out in the world...or you send me a message letting me know that you and a podcast just weren't meant to be.




Are you excited...and a little nervous?


If you found yourself nodding along with a nervous smile, then I can't wait to meet you inside Proffitt Podcasting.
This course is closed for enrollment.
If you're feeling OVERWHELMED, you won't after this course!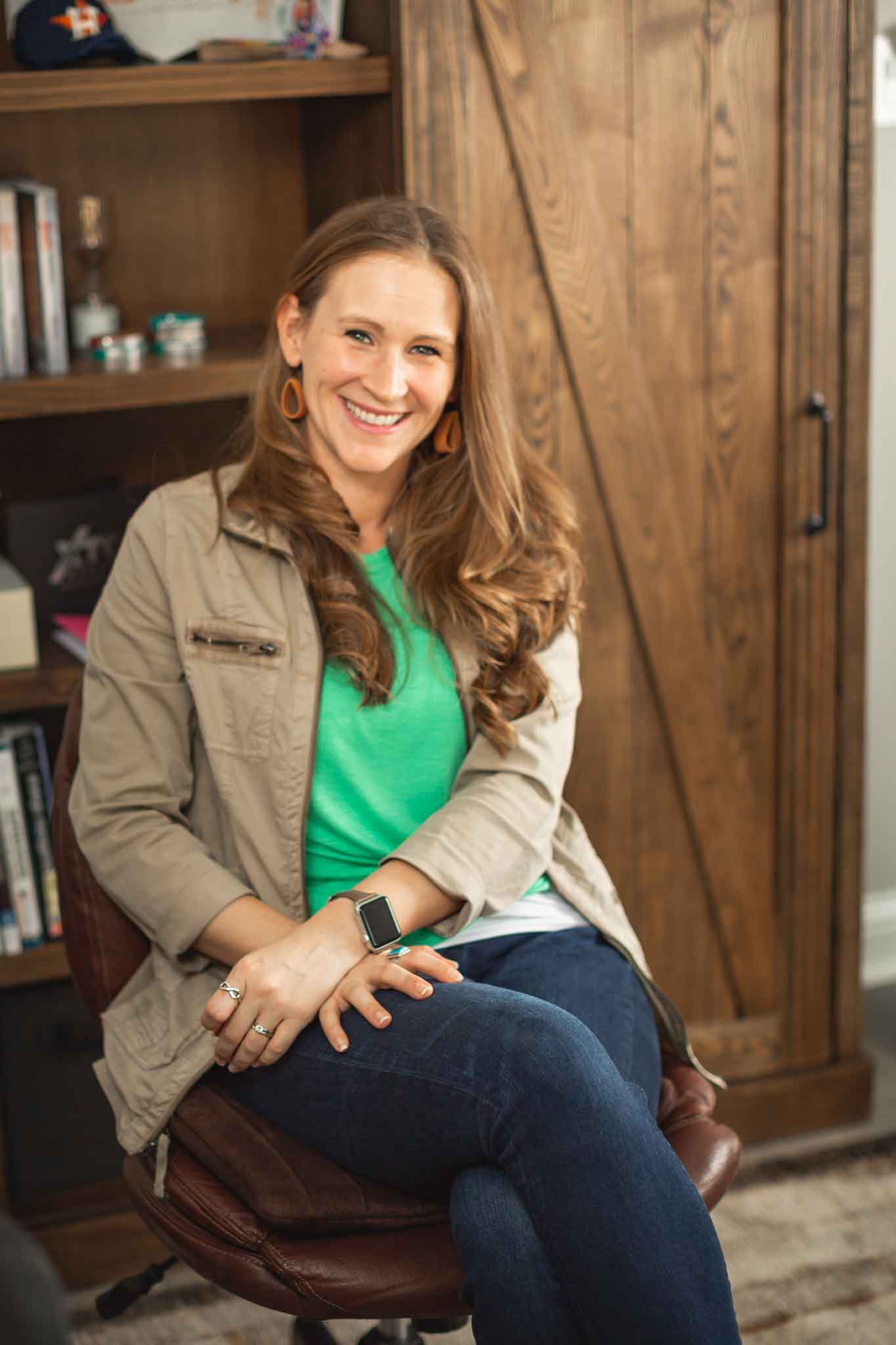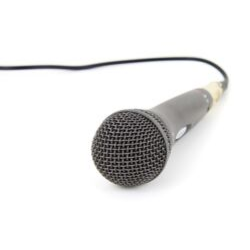 Krystal just has the answer...
"I was unsure how to set up the initial recording calls and you helped me figure that out with just a few interactions! It was just one of those things where you have to search and google, but Krystal just has the answer!
You have resources on your website, which makes it just that much more easy to find the help you need and it's really good info for a beginner like myself.
Now I can be more efficient with my time and respectful of others time as well."
- Miriam Gilmore, Podcast Consulting Client
Your Instructor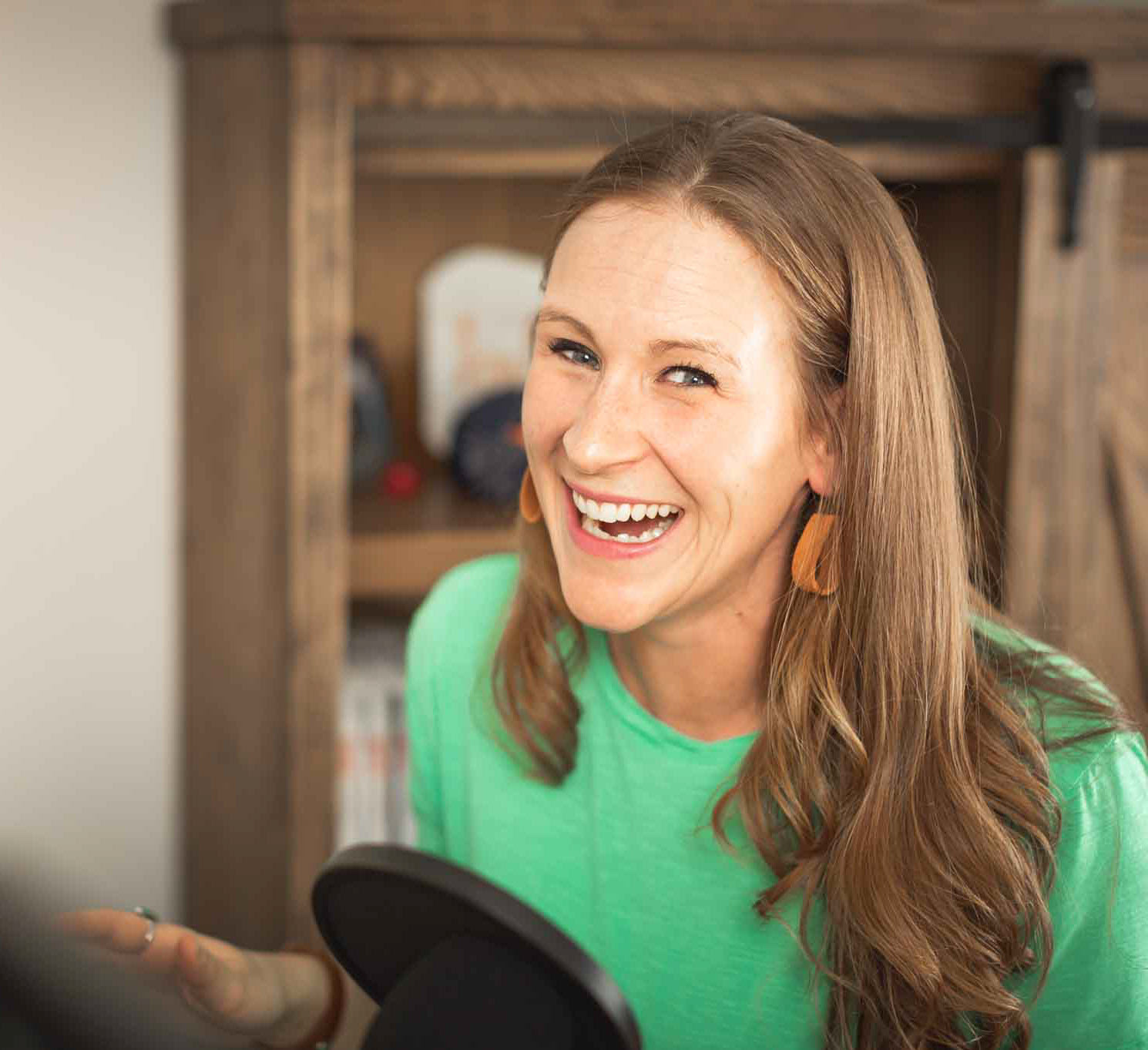 Hey there, I'm Krystal. And I'm here to do one thing and one thing only: Help you create an amazing podcast!
Because the truth is, we all start somewhere.
We all need direction at some point.
So, why not receive guidance from the very beginning?
You can learn more about my own podcasting journey at KrystalProffitt.com.
You'll also find more about my podcast, "The Proffitt Podcast", while you're there too.
---
Keep it up. We all have to start somewhere!
This course is closed for enrollment.